Service is an important part of our discipleship journey. There's nothing too little or too great, as we offer to God our time and talents to serve His Body. Everyone has a unique Serve Story to tell. What's yours?
The Altar Ministry Team plays a critical role in facilitating life change as people respond at the altar for salvation, re-dedication or healing. Be a channel of blessing for others to receive their spiritual breakthroughs and life-transforming encounters with God.
Areas to serve:
FACILITATOR
Facilitate prayer queues and ensure safety and order during altar ministry.
CATCHER
Assist speakers, pastors, deacons and leaders during their ministry to the altar respondents.
COUNSELLOR
Record details of respondents at the Salvation/Re-dedication altar calls and Healing ministry time.
In Cornerstone, there's no job too insignificant and no person too small to reach. The heart of CSCCKidz is to plant seeds of truth in our young ones and teach them to love God and know Him personally. We love making God's Word relatable and real to them in a fun, simple and memorable way.
Areas to serve:
TEACHERS / ASSISTANTS
WRITERS / GRAPHIC DESIGNERS (NEWSLETTER)
EVENT VOLUNTEERS
LOGISTICS
PHOTOGRAPHY/VIDEOGRAPHY
MEDIA & IT (SOCIAL MEDIA/WEBSITE)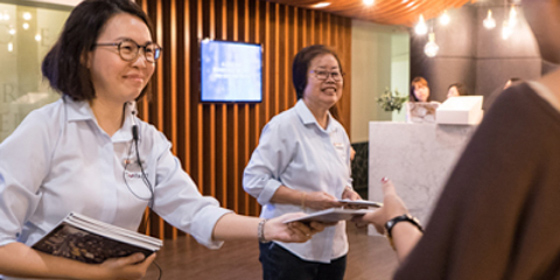 The Service Team is made up of Ushers, Helps, Compliance, Service Coordinator, Next Steps Team and Info Central volunteers. Each serves the church in practical and functional ways to ensure the smooth operation of all church events and services, giving every visitor and member a pleasant worship experience.
Areas to serve:
USHERS
The Usher Ministry creates a welcoming culture in church for anyone who enters our doors. Through a smile, a handshake or giving directions, we show Christ's love by providing practical assistance for visitors, newcomers and members alike.
HELPS
Our Helps Team blesses the Body in practical and essential ways by cleaning and maintaining our church premises and facilities so that everyone can enjoy a conducive environment in our services.
COMPLIANCE
The Compliance Team keeps a vigilant watch over the security and safety of our services and meetings, providing general assistance and deterrence where necessary.
SERVICE COORDINATORS*
The Service Coordinator works closely with the other service teams to ensure the smooth operations of our facilities and provide a conducive environment to enhance the overall service experience. *By recommendation and appointment only.
NEXT STEPS TEAM
Our Next Steps Team aim to create a welcoming experience and atmosphere for guests and visitors to the church. The team assists to answer queries about church life, ministry involvement, cell groups, faith or the next step in one's journey with God.
INFO CENTRAL
The Info Central Team provides support for our ministries/departments' front-line connection to the church. This includes providing information and/or directions, handling registration and payment collection, as well as being the first point of contact with our members, visitors and guests.
Together with the proclamation of God's Word, worshipping Him is the central focus of our services. The Worship Ministry seeks to enhance the worship experience of God's people by allowing the Holy Spirit to use each of us to facilitate, inspire and encourage every person who comes to enter into a place of uninhibited worship towards God.
Areas to serve:
SINGERS
INSTRUMENTALISTS
SOUND CREW
For more information on our worship ministry, please read this info sheet. For more information on our sound ministry, please read this info sheet.
The Herald Publications Team produces our bi-annual in-house magazine which gives a glimpse of the heart, spirit and character of the church by publishing teachings of God's Word, reports of our missions endeavours, and church events.
With the digital eHerald, we're further empowered to fulfill our mission to be a prophetic voice to the nations.
Areas to serve:

WRITER
Report and write on major events in Cornerstone, as well as contribute personal articles for each issue.
PROOF-READER
Ensure that articles are grammatically-correct, style-consistent, error-free and factually-accurate.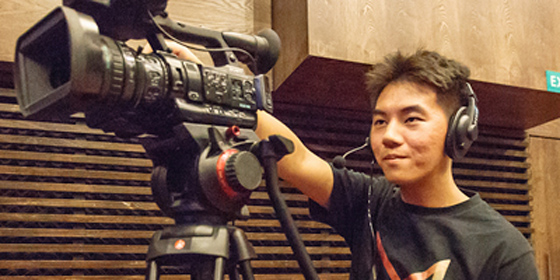 Without lights, cameras, there'll be no action. This is the team that makes it all happen behind-the-scenes. If you enjoy seeing things come to life at the push of a button, creating a memorable experience for all, and being in the midst where it all happens, the Media & Tech Ministry is for you! And the best part is, you don't have to be a tech expert to join us. Training is provided. All we need are your willing hands and feet (a good eye and ear helps too!)
Areas to serve:
LIGHTING CREW
Using lighting and design to create the best possible worship experience in our live services and events.
TV CREW
There's a lot of room to grow in this ministry! Whether you serve as a camera operator, video switcher or a control director, you won't be bored by the non-stop action and ways to bring our services closer to our in-house or online viewers.
VISUALx TEAM (VISUAL EXPERIENCE / PROJECTIONIST)
As their name suggests, the role of a Visualx Crew is to create a visual worship experience through lyrics, visuals and other media for a memorable and impactful event.
PHOTOGRAPHER
Capture moments that tell a meaningful story in our services and events for publications, archives and other creative mediums.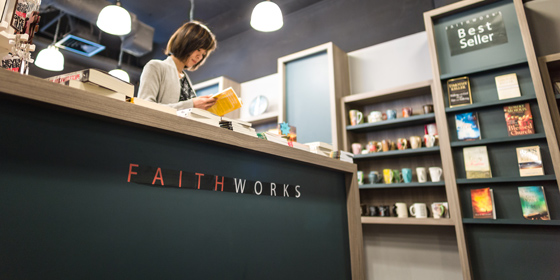 Faithworks
(Cornerstone Resources)
FAITHWORKS (CORNERSTONE RESOURCES)
Cornerstone Resources had her beginnings as a humble book counter in the late 1990s, promoting books and sermon resources to members of our congregation for their spiritual growth. We've since become a full-fledged bookstore called 'Faithworks' promoting CDs, DVDs, Bibles, gifts and Christian literature from some of the world's most anointed Christian authors. More than a bookstore, Faithworks is a place of ministry where the hungry are filled and refreshed; and the thirsty drink deep of the wells of God.

Area to serve:

BOOKSTORE VOLUNTEER
Assist with general over-the-counter sales, customer servicing and store management.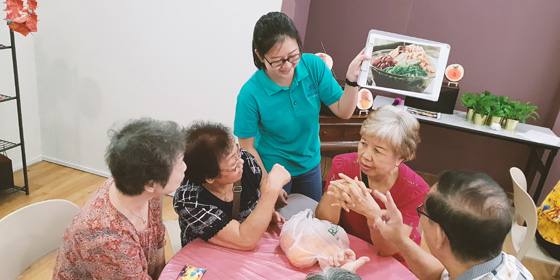 Cornerstone Community Services (CCS) is the community outreach arm of Cornerstone Community Church. It was started with the aim of bringing hope and change to the lives of those in our society. Through our care for the community, we empower our beneficiaries and volunteers to live their lives to the fullest. We work with youths, families, seniors, individuals, migrant workers as well as the underprivileged in the community. Our aim is to enable their sustained well-being, through providing training & equipping, financial support and befriending services. Through our programmes and activities, we seek to alleviate poverty, suffering, ignorance or ill-health whether physical or mental, without limitation of age, gender, race, nationality, religion or moral character.
For more information, visit www.cornerstoneservices.org.sg
Areas to serve:
THE BARN/CORNERSTORE VOLUNTEER
Interact with customers and assist in daily sales.
SENIOR BEFRIENDER
Befriend the elderly and provide them with emotional and mental support.
FOOD CARE VOLUNTEER
Purchase groceries and deliver to assigned needy family every month.
YOUTH MENTOR
Befriend, support and encourage young people through social activities and interactions.
SENIOR CENTRE VOLUNTEER
Help with the operations in various areas at Cornerstone Senior Centre.

MEDIA SUPPORT
Assist with photography, copywriting, publicity event coverage on ad-hoc basis.

The Vanguard Ministry is the intercessory arm of the church and is positioned like an army moving into the forefront of the battle. This is a specialised ministry that sets a spiritual covering over the church through prayer and intercession, and positions itself to pray alongside the plans of God over Cornerstone and the nation of Singapore.

When: Every Thursday, 8pm
Venue: Online via Zoom
The greatest satisfaction comes when I see the excitement and joy that customers have upon finding the book they want or when I hear stories about how a book impacted their lives. Conversations with customers keeps me alive during each duty

It is always a privilege to serve God's people and lead His children into His presence. Along the way, God can also bring special people into our lives. That's how we met!

Constance & Jeremy
Children's Ministry
The greatest satisfaction is seeing people lift their hands in worship and enjoying the service. It always brings a smile to my face.

Frederick
Service Coordinator
I host because I can do my part to make church a welcoming place for the people who walk into Guest Central. I remember what it was like to be welcomed on my first day, and that made all the difference.

Serving in compliance brings me joy when I see church members feeling a sense of security with a touch of warmth and love

Start writing your Serve Story today!